PHL: No points of Pasy in Toruń
20.09.2022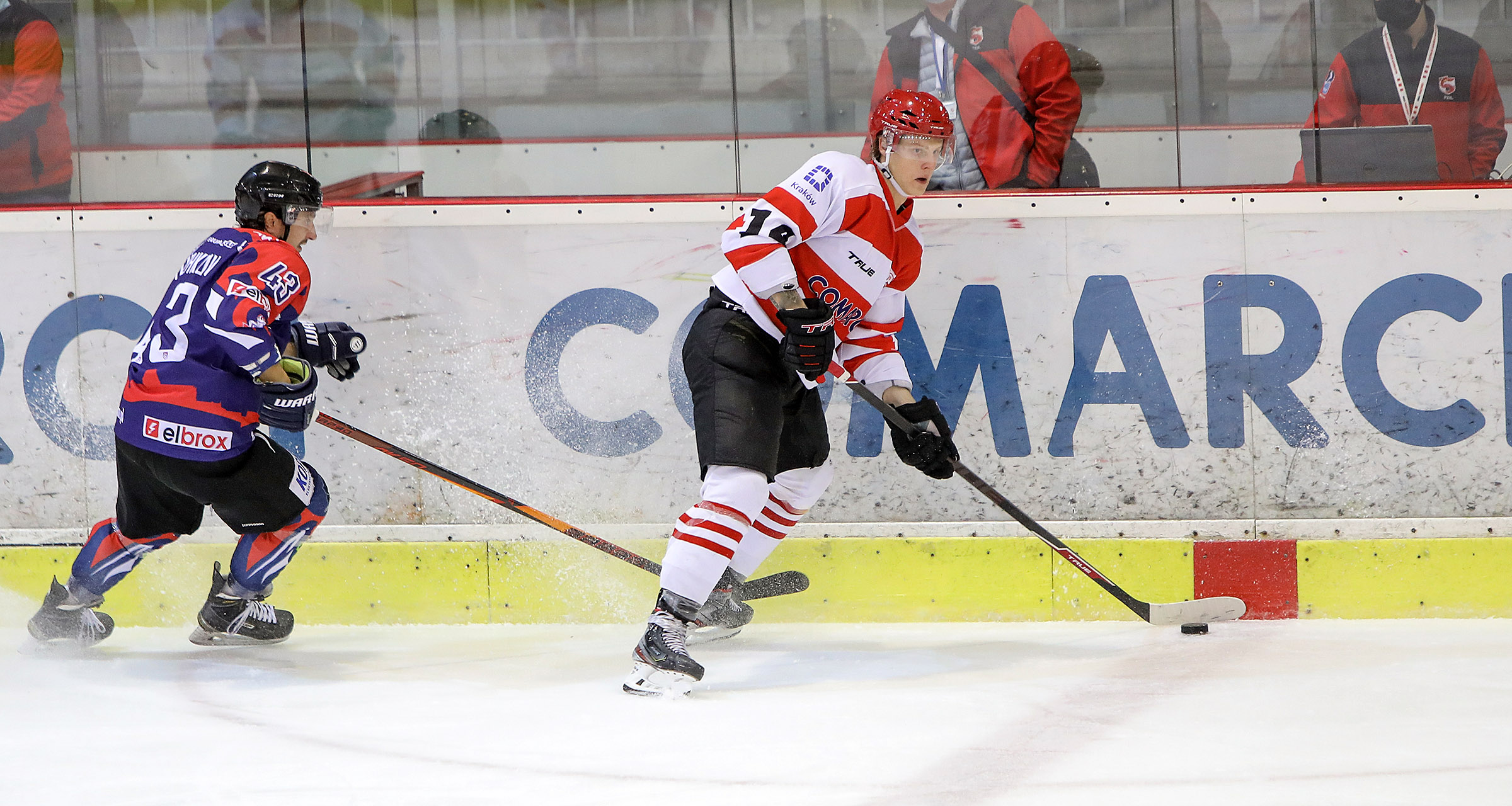 The Polish Hockey League Week 1 away match of Comarch Cracovia against KH Energa Toruń finished as win of the hosts.
KH Energa Toruń - Comarch Cracovia 6:2 (0:0, 2:1, 4:1)
0:1 Jiří Gula - Štěpán Csamangó (25:14)
1:1 Szymon Maćkowski - Michał Zając, Mateusz Zieliński (26:41)
2:1 Elias Elomaa - Mark Viitanen, Edmunds Augstkalns (28:15, 5/3)
3:1 Kamil Kalinowski - Mikałaj Syty, Illa Korenczuk (45:27)
3:2 Patrik Husák (49:10)
4:2 Michał Kalinowski (52:28)
5:2 Niki Koskinen - Mateusz Zieliński (57:01)
6:2 Eemeli Jeskanen - Michał Kalinowski (57:21)

Referees: Paweł Breske, Patryk Kasprzyk (officials), Wojciech Czech, Sławomir Szachniewicz (linesmen)
Penalties (mins): 6-14
Shots on goal: 38-49

KH Toruń: E. Muštukovs - A. Jaworski, D. Ihnatenko, M. Syty, K. Kalinowski, I. Korenczuk - M. Zieliński, E. Augstkalns, M. Kalinowski, N. Koskinen, M. Viitanen - J. Ahonen, J. Gimiński, D. Olszewski, E. Elomaa, E. Jeskanen - O. Bajwenko, O. Kurnicki, J. Wenker, S. Maćkowski, M. Zając.

Cracovia: R. Stojanovič - J. Šaur, J. Gula, M. Michalski, R. Arrak, M. Račuk - A. Ježek, S. Kinnunen, M. Kasperlík, R. Rác, R. Sawicki - P. Husák, E. Němec, M. Sointu, P. Wronka, Š. Csamangó - S. Brynkus, A. Dziurdzia, D. Tynka, D. Kapa.