History
The arena is located on 7 Siedleckiego Street and is named after Adam "Roch" Kowalski. Its construction began on the 1st of July 1956 and it was opened on the 18th of July 1961 - the first game hosted here was between Cracovia and Start Katowice. Our team lost 3-1 but the next day won the rematch 4-3. The arena was covered in 1976. The small rink was built in 1966.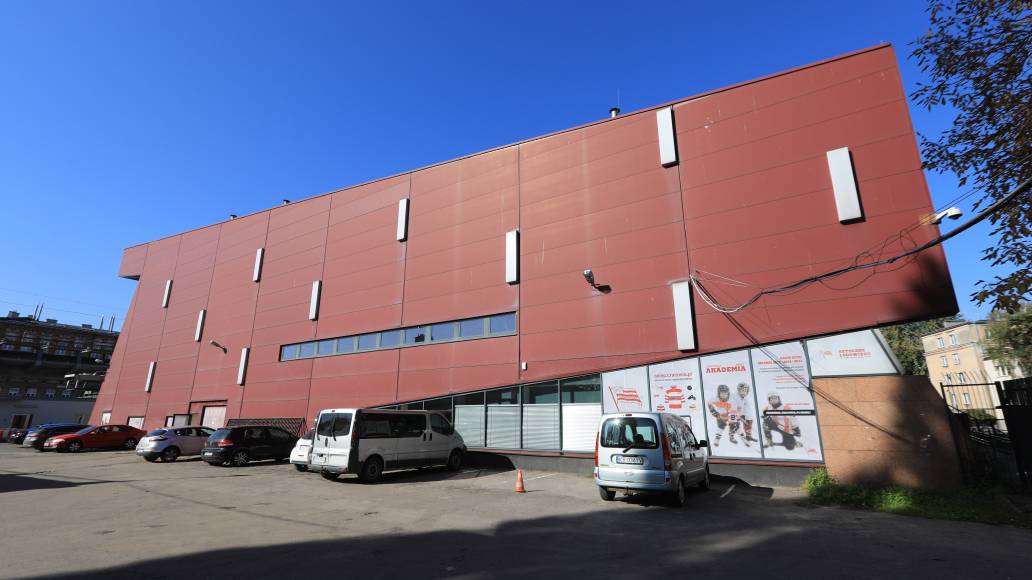 Patron
Adam Kowalski (1912-1971), pseudonym "Roch" or "Nowak", a man of many talents, triple Olympian in ice hockey (1932, 1936, 1948).

He was an amazingly talented and versatile sportsman (swimmer, water polo player, footballer, basketballer) but his greatest achievements are definitely hockey related. He spent his entire career at Cracovia (1928 - 1951).

Kowalski won 53 international caps (1932 - 1948) and scored 22 goals for the national team. Furthermore, he was a three-time league champion with Cracovia (1937, 1946, 1949) and four times (1935, 1937, 1938, 1939) played in world cup games.

He was an ardent patriot - he fought in the 1939 September Campaign. He spent the war in a Nazi POW camp in Woldenberg, where he was the vice president of a soldier's sports club Żołniersky Klub Sportowy Skra - he took part in the 1944 prisoners' Olympics. After the war he still wanted to play for Pasy - he was a part of the hockey team but also won vice-championships with basketball and the water polo sections in 1946.

When talking about the many sports he was involved in, one should not forget about the league title won together with the handball team in 1933. After retirement he became a sports activist and a referee.
Basic information
Ice rink size: 28 x 58 m2
Floor space: 6753.5 m2
Cubic volume: 77080.0 m3
Capacity: 2514 (all-seater)
Legal status of the arena
In January 2004 the ice rink on Siedleckiego Street in Cracow was officially handed over to MKS Cracovia SSA, who will use it for 30 years. The notarial deed was signed by the Mayor of the Royal Capital City of Cracow Jacek Majchrowski, the then MKS Cracovia SSA Chairman of the Board Paweł Misior and the Vice-chairman Jakub Tabisz.
Until then the ice rinks had been in hands of a Local Government Budgetary Institute "Krakowianka". The arena had not been renovated for years and was in a bad technical condition, which led to its depreciation. The city councillors postulated that the building be handed over to Cracovia and the decision was made in October 2002. In return for payment MKS Cracovia SSA will use the arena for 30 years, having also received 110 retail kiosks that are located in the building.
Travelling to the arena
BY BUS OR TRAM
Comarch Cracovia arena has excellent public transport links. "Hala Targowa" is the nearest bus/tram stop to the arena - you can get here using the number 1, 12, 19, and 22 trams, and bus 184, which goes from Kurdwanów to Prądnik Czerwony. More detailed timetables are available at www.mpk.krakow.pl. When you get off at the "Hala Targowa" stop, walk past the market place and turn onto Siedleckiego Street.
BY CAR
If you are travelling by car, you need to remember that the area around the Comarch Cracovia arena is within a metered parking zone from Monday till Friday from 10 a.m. to 20 p.m. From Daszyńskiego Street, which is located nearby, you can enter Galeria Kazimierz shopping center parking lot. From Monday till Friday you can park there for up to two hours for free.
FROM KRAKÓW GŁÓWNY RAILWAY STATION
Tram number 19 will take you directly from Kraków Główny railway station to Comarch Cracovia ice rink arena. In 8 minutes you will get from the tram stop "Dworzec Główny Tunel" to "Hala Targowa".
FROM KRAKÓW AIRPORT
Unfortunately, there is no direct public transport link between the John Paul II International Airport Kraków-Balice and the Comarch Cracovia ice rink arena. The easiest option is to take the number 208, 292 or 902 bus from the airport or go by Kraków High Speed Agglomeration Railway and upon arriving at the Kraków Główny railway station, get on the tram 19.