PHL: Third win against Zagłębie
26.02.2023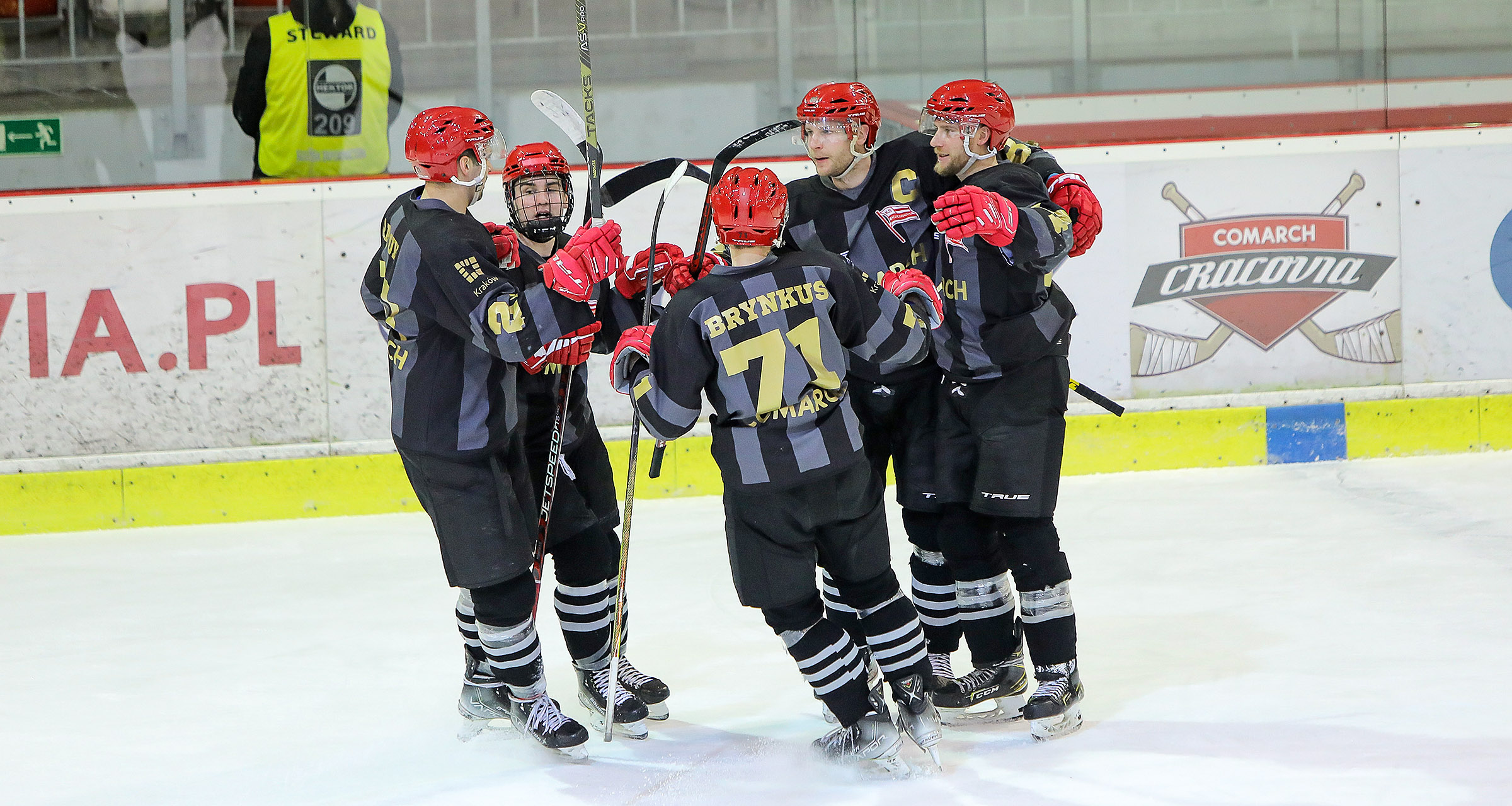 The 3rd match of Polish Hockey League Quarter-Finals between Zagłębie Sosnowiec and Comarch Cracovia finished as huge win of Pasy, 6-2. Our team is leading that series with three games to nothing.
Zagłębie Sosnowiec - Comarch Cracovia 2:6 (1:2, 1:2, 0:2)
0:1 Alan Łyszczarczyk - Erik Němec, Damian Kapica (02:28)
0:2 Jiří Gula - Patryk Wronka, Damian Kapica (03:52)
1:2 Christian Blomqvist - Jakub Witecki, Tim Friberg (11:25)
1:3 Mico Luoto (22:05)
1:4 Marek Račuk - Alan Łyszczarczyk, Mico Luoto (28:03)
2:4 Michał Bernacki - Lukáš Motloch, Christian Blomqvist (39:02, 5/4)
2:5 Mateusz Michalski - Sebastian Brynkus (55:27)
2:6 Alan Łyszczarczyk - Marek Račuk (57:41, 4/4 - empty net)

Referees: Tomasz Radzik, Bartosz Kaczmarek (officials), Sławomir Szachniewicz, Wojciech Moszczyński (linesmen)
Penalties (mins): 10-10
Shots on goal: 11-20
Attendance: 500

Zagłębie: P. Spěšný - L. Motloch, M. Kotlorz, T. Friberg, C. Blomqvist, J. Witecki - O. Krawczyk, A. Khoperia, D. Piotrowicz, J. Rzeszutko, P. Kogut - J. Michałowski, W. Andrejkiw, M. Bernacki, T. Kozłowski, K. Sikora - M. Naróg, O. Rzekanowski, D. Nahunko, N. Bucenko, A. Pawlenko.

Cracovia: D. Zabolotny - A. Ježek, S. Kinnunen, M. Kasperlík, R. Rác, R. Sawicki - J. Šaur, J. Gula, P. Wronka, V. Polák, D. Kapica - M. Luoto, R. Graborenko, E. Němec, M. Račuk, A. Łyszczarczyk - D. Krejčí, A. Dziurdzia, S. Brynkus, M. Michalski, V. Tomi.